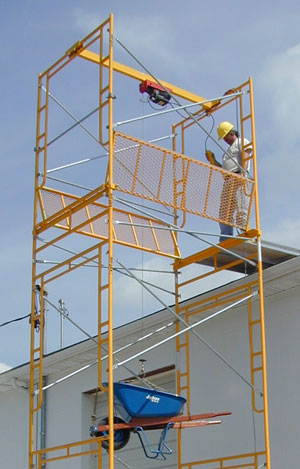 The Crist Corporation offers the best tools and equipment for the trowel trades. Our family-owned, family-run business has served the Altoona area for decades. We pride ourselves on our personalized touch and our knowledge of the trades, themselves. We carry all major brands of tools and finishing supplies for your construction needs and are willing to ship anywhere in the United States.
The Crist Corporation was founded by Steve Crist. Steve is a third generation mason. His father and grandfather were masons, as well as many uncles and cousins. Steve started out doing small jobs at the age of 13. He began doing large masonry jobs in 1983 and found that there was a need in Central Pennsylvania for tool and equipment sales and rentals. For masonry contractors, this need was especially apparent in the area of scaffolding. Steve filled these needs by branching out to the sales and rental of tools and equipment, as well as scaffold rental, sales and setup. Steve's son, Lou, as well as his cousin Jim help with the sales and rental business.
The Crist Corporation is conveniently located on route 36, which passes through Altoona, PA. We concentrate on quality tools and innovative products that save time and money. We have two warehouses, filled with scaffolding, tools, and equipment for masonry, as well as general construction. As you can see, we have a large inventory on hand.